Heritage Song Mayflower
N2210913
DOB: 4-19-2021
Brown with Silver Ears, Crown
*DNA
G6S: N/N
Alpha s1 Casein: B/B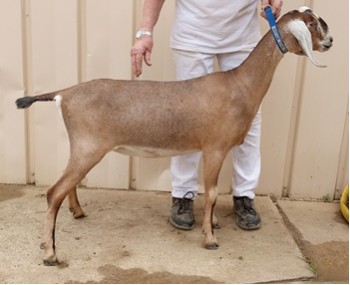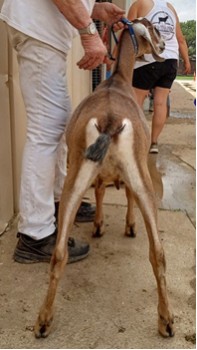 Sire: Stevens Creek Warcry DNA 88V+E
SS: Stevens Creek SO Supercharged
SD: Stevens Creek SO Vivian
Dam: Heritage Song April Showers
DS: *B Redwood Hills Triple Threat DNA 89VEE
DD: SG Heritage Song Purple Rain 8*M DNA 90VEVE DHI: 4-305-2728# 4.3% BF, 3.7% Pro.
Now that we are showing again , I grabbed one of the fancy Warcry doelings and walked her thru the 2 ring show WOW!!! Jr. Res GCH in one ring and Jr GCH in the other, topping it off with Best Jr. Doe In Show against such beautiful Jr.ís. Mayflower is level, correct, and that cabbage Rose marking on her face ( what you get from April Showers ) and Amy Akramoff agreed! Mayflower is bred to our Sr. Herdsire: Executive Romance for an April freshening.