HERITAGE-SONG is exclusively Nubians. Our goals continue to be high production, long even lactation, pre-potent, total performance animals. In 2018 ADGA aw
arded our herd with 1 ELITE Heritage Song doe. HERITAGE-SONG has received the honor of ADGA BREEDLEADER 12 times, with the most recent in 2018: SGCH HERITAGE SONG RAINBOW (pictured on the right). Rainbow is our latest proven TOTAL PERFORMANCE DOE. September 2018 ROLLING HERD AVERAGE was 2297#. This included 3 yearling first fresheners. 2018 we received 5 Superior Genetic Awards and all animals Linear Appraised ranged from 85-92 Ex, yearlings to senior does. Consistency!
We test yearly for CAE and are a CAE negative herd. All semen offered has been tested for G6s. We are a G6s normal herd. We are also an ADGA Plus herd and promote this program. Our farm is now Certified Organic. We produce Oats, Brome grass and large round bales of Alfalfa for the herd.
Reservations on kids are $100.00. All kids receive CD/T and Tetanus Antitoxin during disbudding and tattooing at 10 days of age. Payment in full is due 14 days after notification of birth. If not paid the reserved kid becomes available for resale and your deposit is lost. All sales of unreserved kids are Private Treaty and will be negotiated when kids come available.
All cost of shipping, crates and health certificates are the responsibility of the buyer. Kids must be picked up by 5 weeks of age. We reserve the right to choose kids for our herd strength and growth. Your deposit will be fully refunded if the kid is reserved.
Thank you for your interest in our Nubians!!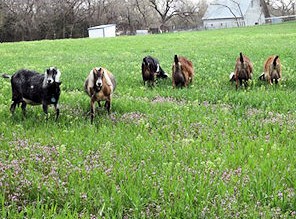 Randy & Shirley Chapman
161 Angus Road
Glasco, Kansas 67445
785-568-2476
heritagesong@gmail.com