[Home] [Herd Sires] [Senior Does] [First Fresheners]
[Kidding Schedule] [For Sale] [Semen] [Reference]
Herd Sires
Click on Registration #'s to go to ADGA's Pedigree Info on each Buck!
+B M*L Legacy Executive Romance
N1770544
DOB: 01-28-16
Red with White markings, Blk. Trim
*DNA Typed
G6S Normal Tested
Alpha s1 Casein B/B
LA: 88(VVE)
3-05 90(VEE)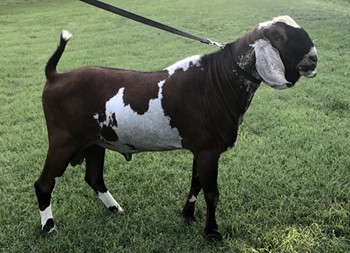 Sire: M*L Legacy Restless Heart
SS: +*B Alize Executive Sweet 83 +VV
SD: Lakeshore Ace Risqué 6*M 87 VVEV Jr. CH 2008 National Show

Dam: M*L Legacy Isabel
DS: +*B Alize Executive Sweet 83 +VV
DD: Canoe Creek Barbie

A double bred Alize Executive Sweet buck, this guy is level over the top, wide flat ribbing, and gentle. LA 90VEE !! His sire threw consistently nice udders and body style. Romance is taking after his sire with high wide udder placement, nice milk, and pretty breed character. This is an udder buck ! Romance is crossing well with my Copper-Hill and Redwood Hill lines. His breed character and gentle nature is just another plus!! My animals are big!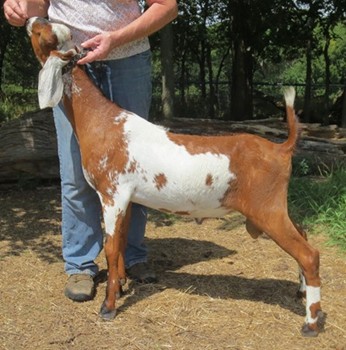 Dam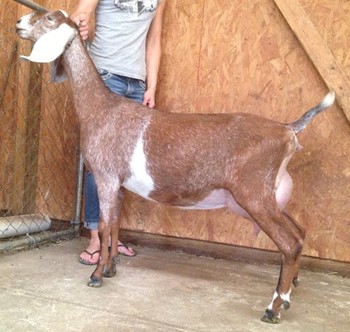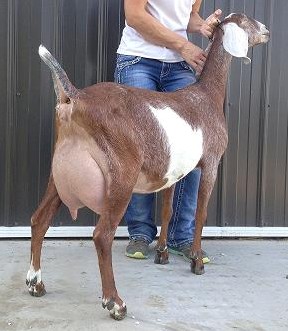 M*L Legacy Isabel

Sire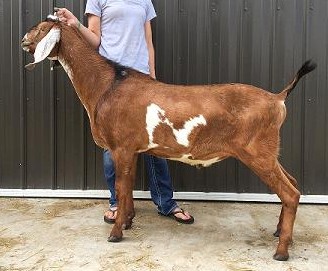 M*L Legacy Restless Heart

Sire' s Sire & Dam's Sire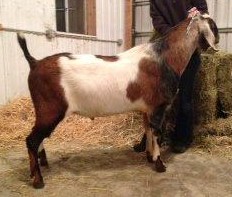 +*B Alize Executive Sweet 83 +VV
+B Redwood Hills Triple Threat
N1828945
DOB: 9-19-2016
Red with white ears, flag on side
LA: 89VEE
DNA typed
G6s Normal tested
Alpha s1, Casein A/B

Sire: +*B Wingwood Farm TL Atlas *DNA ADGA Elite
SS: +*B Wingwood AMI Tupelo *DNA ADGA Elite
SD: SGCH Wingwood Farm Tim's Althea *M 91EEEE

Dam: Redwood Hills True Twinkle 9*M 90VVEE 01-472-3010# 3.8% bf, 3.6% prot.
DS: +*B Wingwood Farm Lucky True Blue *DNA
DD: SGCH Redwood Hills MC Talasi 8*M 02-330-2970# 4.3% bf, 3.7% prot.

Long, lean neck blending smoothly into the shoulders. Clean throat and brisket with adequate width of chest to support the lungs and heart maintenance on this tall, level top lined buck. "Timmy" came to us a favored pet now a 225# mischievous male who keeps me on me toes! I LOVE his pedigree and kids he has sired. Timmy is being bred to Romance daughters - adding more sharpness and his amazing length, height and forever dairy neck.

Dam

Redwood Hills True Twinkle 9*M
90VVEE

Dam's Dam

SGCH Redwood Hills MC Talasi 8*M

Sire's Dam

SGCH Wingwood Farm Tim's Althea *M
91EEEE
Stevens Creek Warcry
N2119405
DOB: 3/30/2020
Buckskin with silver ears & dark trim
*DNA
G6s = N/N tested
Alpha S1 Casein B/B
LA : V+E 88
Sire: Stevens Creek SO Supercharged
SS: War Cry's Show Off *DNA 85VV+
SD: M*L Legacy Tamale Hot Pepper

Dam: Stevens Creek SO Vivian
DS: War Cry's Show Off *DNA 85VV+
DD: Lakeshore XFinity 86V+EV

A line breeding to compliment/strengthen the M*L Legacy Executive Romance does along with the Redwood Hills Triple Threat doelings. Double War Cry's Show Off!! Cole Meador does such a nice job of putting a pedigree together!! The doe line on this buckling is so consistent in beautiful udder, milk, breed character and strong bodies. This young buckling is good on leash, in pen and am looking forward to the quality he will add to my herd. War Cry has excellent feet. His daughters are just stunning! Taking one ringside in 2022 with Res. Jr. GCH, Jr. GCH, and Best Jr. Doe In Show.

Dam

Yearling First Freshener

Stevens Creek SO Vivian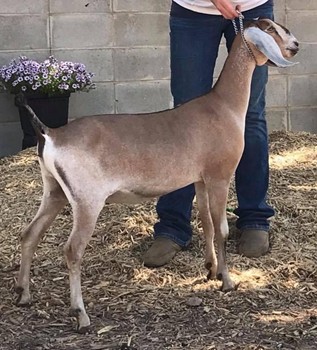 Junior Doe

Sires Dam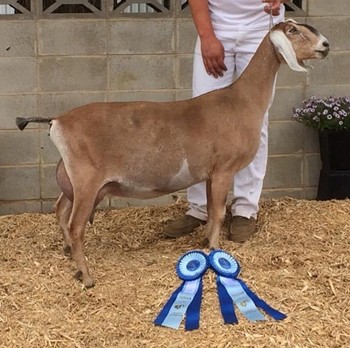 M*L Legacy Tamale Hot Pepper

Dam's Dam


Lakeshore Xfinity 86 V+EV

Randy & Shirley Chapman
161 Angus Road
Glasco, Kansas 67445
785-568-2476
heritagesong@gmail.com